Florida News: Aaron Hicks
The Tampa Bay Rays jumped out to a 2-0 lead but New York scored twice in the second and three times in the fifth en route to a drama free 6-2 victory over the Rays.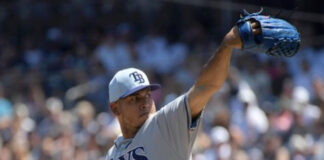 The Tampa Bay Rays scored three times in the second inning and held on to defeat the New York Yankees 3-1.
The Yankees looked sharp, even after a long week full of travel woes and days off, as they took two out of three from the Kansas City Royals in Kansas City over the weekend.