Aaron Judge led off the game hitting his 53rd home run and that was all the New York Yankees needed in defeating the Tampa Bay Rays 2-0.
TAMPA - AP - Now the New York Yankees know what's wrong with Aaron Judge. As to when he'll be OK to play, no...
TAMPA, Fla. (AP) — Injured New York Yankees outfielders Aaron Judge and Giancarlo Stanton are likely to miss New York's opener at Baltimore on...
The New York Yankees are red hot and back in first place in the difficult AL East.  The Bronx Bombers are on fire, and at times they seem unstoppable.  Tom Hanslin of BronxPinstripes.com joined the Erik Kuselias Show on Tuesday morning to discuss how the Yankees could be even better than this.
TAMPA, Fla. (AP) — New York Yankees star Aaron Judge feels the Houston Astros should be stripped of their 2017 World Series championship. "You cheated...
Neil Walker hit a three-run homer, Zach Britton started a game-ending double play on New York's third try in the ninth inning and the Yankees kept the Boston Red Sox from a bubbly celebration in the Bronx for at least another night with a 3-2 victory Tuesday.
Ronald Acuna Jr. hit a two-run homer in the 11th inning that nicked the glove of a leaping Aaron Judge in right field, and the Atlanta Braves beat the New York Yankees 5-3 on Monday night in a matchup between the top teams in each league.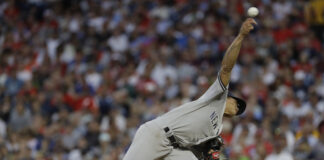 Loaisiga took a no-hitter into the sixth inning, Aaron Judge ripped his 20th homer and the New York Yankees snapped a three-game skid with a 4-2 victory over the Philadelphia Phillies on Monday night.
Aaron Judge and Miguel Andujar hit two-run homers off James Paxton in the first inning that sent the Yankees over the Seattle Mariners 4-3 on Thursday for a three-game sweep.
Yankees slugger Aaron Judge became the first player since at least 1920 with eight strikeouts in a doubleheader, including five punchouts in the nightcap as the Detroit Tigers beat New York 4-2 for a day-night split Monday.