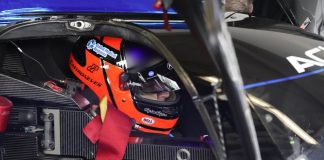 Wayne Taylor Racing needed every minute of the offseason to transition to an Acura factory program, an exhausting sprint to overhaul a program before...
IMSA WEBSITE - Gerry Kraut and Scott Andrews picked up their second consecutive IMSA Prototype Challenge win on Saturday, but not without some drama,...
DAYTONA BEACH, Fla. (AP) — Fresh from a holiday trip to the Bahamas, NASCAR's newest two-time champion raced back to the track to open...
Alonso drove the Cadillac DPi to the lead in each of his three stints at Daytona International Speedway.
Heavy rain drenched the field of the Rolex 24 at Daytona field with Fernando Alonso leading the endurance race at daybreak. IMSA stopped the race with a little more than seven hours remaining because of poor track conditions.