Giancarlo Stanton and Miguel Andujar homered to help Masahiro Tanaka win his fifth straight decision, and the Yankees beat Baltimore 8-5 on Saturday to extend the Orioles' losing streak to seven games.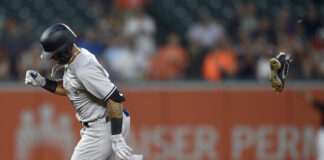 New York parlayed a solid pitching performance by Sonny Gray and a home run by Aaron Judge into a 4-1 victory over the Baltimore Orioles on Friday night.
The Tampa Bay Rays are a winning baseball team at 27-26 after a 4-3 win over the Oakland Athletics on Tuesday night.
Twice on Thursday night, in the Tampa Bay Rays' 6-3 win over the Boston Red Sox, Denard Span chased down a foul ball and went over the short wall, falling into the 162 Landing.  He didn't catch the ball either time, but the first time he landed on a fan and his beer.
Cole Hamels limited the slugging New York Yankees to four hits over seven innings while Jurickson Profar and Ronald Guzman homered for the last-place Texas Rangers in a 6-4 win Tuesday night.
Joey Rickard had his first big league multihomer game and drove in four runs. The Orioles scored their most runs in three years in a 17-1 rout over the Tampa Bay Rays on Sunday.
The New York Yankees took two out of three from the Boston Red Sox in a renewal of the AL East rivalry this week.
The Atlanta Braves completed a two-game sweep of the Tampa Bay Rays on Wednesday night with a 5-2 victory driven by another strong starting pitching performance.  This time it was Julio Teheran on the hill for Atlanta keeping the Rays down.  Tampa Bay had to nearly avoid a shutout, care of Wilson Ramos and his Major League-leading hit streak.
It was a pitcher's duel of a modern sort on Tuesday night as the Atlanta Braves shut out the Tampa Bay Rays behind a stellar performance by Sean Newcomb and the Atlanta bullpen on a night where they needed every strike.
Top prospect Gleyber Torres went 0 for 4 and stranded six runners during his highly anticipated debut for the New York Yankees, who nonetheless cruised to a 5-1 victory Sunday against the Toronto Blue Jays.