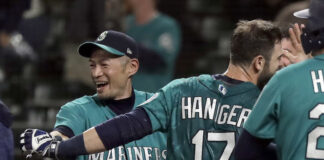 There always seems to be one game in Seattle that never seems to end. It's something it seems like every eastern team goes through; that game that goes outside of regulation to be decided in the wee hours of the morning.
The Tampa Bay Rays went 0-for-8 with runners in scoring position and had three runners thrown out on the bases as they were shutout by the Baltimore Orioles 2-0 Friday night.
The Tampa Bay Rays and Seattle Mariners completed a four player deal on Friday night. The Rays sent Denard Span, Alex Colome, and cash considerations to Seattle in exchange for a pair of minor league pitchers.
A three-run first inning paced the Tampa Bay Rays, and the bullpen threw 4.2 innings of shutout baseball as the Rays took a 5-3 win on Wednesday afternoon to complete a sweep of the Kansas City Royals.
Blake Snell worked a career high 7.1-innings holding the Boston Red Sox to just two runs en route to a Tampa Bay Rays 4-3 victory. Snell was backed by homers by Wilson Ramos, Rob Refsnyder, and Daniel Robertson.
Jorge Alfaro hit a go-ahead single with two outs in the ninth inning and the Phillies won their fourth straight overall by beating the Tampa Bay Rays 2-1 on Friday night.
Rays led 7-2 in 8th inning BOSTON (AP) — Andrew Benintendi hit a tiebreaking RBI double in Boston's wild six-run eighth inning, and the Red...
Colome Gets Biggest Pay Hike In 2018 The deadline to exchange figures for arbitration came and went Friday afternoon with the Tampa Bay Rays reaching...