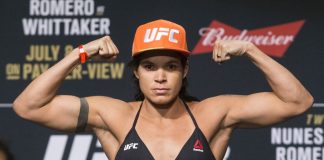 Holding one UFC title is a great achievement but Amanda Nunes has two of them. You can bet the Brazilian will want to hold...
UFC 224 takes place this Saturday, April 12 from Rio de Janeiro, Brazil.  The event is a title fight between bantamweight champion Amanda Nunes and #2 Raquel Pennington.  The co-main event features a top-five middleweight matchup between #2 Jacaré Souza and #5 Kelvin Gastelum.
The Young Fighters Shine in Las Vegas When featherweight champion Max Holloway was forced to pull out of his fight against Frankie Edgar exactly one...
UFC Fans Shouldn't Forget How Dominant Rousey Once Was Instead of making the walk to an octagon to square off with her opponents, Ronda Rousey...
The Two Champs Will Coach TUF, Fight At UFC 226 When the UFC's three biggest superstars (Conor McGregor, Jon Jones and Ronda Rousey) all have...