Home
Tags
American League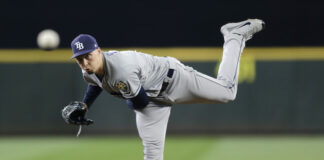 The BBWAA announced that Blake Snell of the Rays had won the 2018 American League Cy Young Award beating out Justin Verlander & Corey Kluber.
The Major League Baseball All Star Game started off as a gimmick and remains a gimmick 85 years after the first game was played in Chicago. Neither American nor National League owners ever thought about pitting their stars against one another in the previous 30 years that the American League claimed major league status.
Blake Snell's all star snub on Sunday night has been decried throughout Major League baseball, but solutions on how to select a better all star team are hard to come by.
New York Yankees pitcher Luis Cessa made his first game appearance in nearly two months, struggling with his control as he allowed two runs over 1 2/3 innings.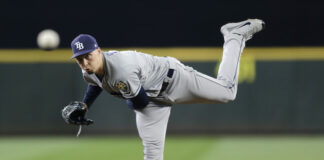 Every inning it became clearer and clearer that Blake Snell had something special going on Sunday afternoon in Seattle. Unfortunately, the Mariners would get the last laugh with two runs in the eighth to take the 2-1 win and a weekend sweep at Safeco Field.
Sonny Gray discovered a couple of tweaks in his delivery during his extended time off, and he transferred it to the mound on Sunday, going eight innings and helping the Yankees beat the Kansas City Royals 10-1 to win an eighth consecutive series for the first time in 20 years.
Daniel Robertson hit his first career grand slam and the Tampa Bay Rays held on after Mike Trout's ninth-inning homer for their sixth straight victory, 5-3 over the Los Angeles Angels on Saturday night.
The New York Yankees hit so many home runs against the Kansas City Royals on Saturday night that they had just about every variety covered.
Wilson Ramos homered twice and drove in three runs to lead the Tampa Bay Rays to their fifth straight win, 8-3 over the Los Angeles Angels on Friday night. Blake Snell (5-3) gave up two runs in 6 2/3 innings while striking out eight to help the Rays to their sixth win in seven games.
Whit Merrifield had three hits, stole three bases and scored twice off Sabathia in the first four innings, Jakob Junis held down the Yankees' potent offense, and Kansas City beat New York 5-2 on Friday night to open a three-game series between teams that had been headed radically different directions.