GREEN BAY, Wis. (AP) — All that stands between Green Bay and its first Super Bowl berth in a decade is the one team...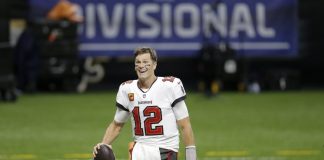 NEW ORLEANS (AP) — Tom Brady's best game in three tries against New Orleans kept the Buccaneers moving on in the NFL playoffs, and...
Aaron Rodgers picked apart Chicago's defense once again last week, throwing four TD passes to give him 51 for his career against the Bears. Only...
Hey old-timer, what are you still doing on an NFL field? Guaranteed no one is asking that question to the quarterbacks in the bays: 43-year-old...