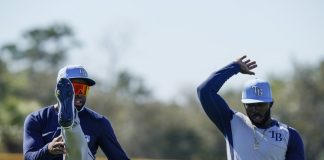 MLB has complete control over the minors. https://www.youtube.com/watch?v=I-yME8NZ7FU Major League Baseball eviscerated its partnership with Minor League Baseball after the 2020 season. There was no minor...
Educators and scientists and medical experts should decide if playing high school football is safe during the pandemic. https://www.youtube.com/watch?v=3Cu1j-X1m8Y You know that COVID-19 is serious business...
The July numbers are in from sports betting in New Jersey. Three casinos and two racetracks took more than $40 million in bets. Overall, $57 million has been wagered in the Garden State from June 14, when sports betting started in New Jersey, through July 31.