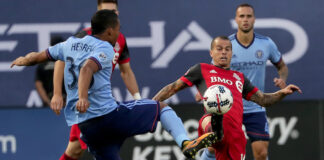 Has Major League Soccer given Austin an expansion team or is the league still searching for two cities to get the membership up to the stated goal of having 28 teams?
Remember when Major League Soccer wanted to expand by four teams and was in what appeared to be a major rush to find four cities and four owners who had what it took to join the club?
The struggle to find cities with the right stuff to join Major League Soccer continues but league owners should be happy with some of the latest developments.
Anthony Precourt has decided that Austin, Texas is a better venue for his soccer business than the present location in Columbus, Ohio. It is that simple, Precourt would prefer his Major League Soccer team, the Columbus Crew, be based in Austin.
Major League Soccer is waiting for the Austin City Council's decision to give the go ahead to a soccer stadium plan that would allow Precourt Sports Ventures to move its Columbus Crew franchise to the Texas capital in 2019.
Austin, Texas could have a Major League Soccer team soon if the city council decides to go ahead and finalize stadium plans that would bring the Precourt Sports Ventures owned Columbus Crew to the city.
Major League Soccer's expansion plan and a relocation attempt keeps running into hurdles. The owner of the Columbus Crew, Precourt Sports Ventures or PSV, wanted to move the team to Austin, Texas.
The city of Miami wants Formula 1 auto racing beginning in 2019. The executives who run Formula 1 racing want Miami and promise that the race will bring in $700 million for Miami in economic impact.
There are signs that America is going to get more spring time football and it will be in the form of two additional leagues. The Spring League is an active group that plays a couple of games a year. The Alliance of American Football is scheduled to begin play in 2019 and Vince McMahon's XFL reboot will start in 2020.
Major League Soccer, which has had a terrible time finding expansion cities with a potential owner and a state of the art MLS stadium, is now watching a court preceding that could hasten or impede the Columbus Crew's ownership effort to relocate the team to Austin, Texas.