Did you see that three out of four Oakland residents are supporting the Oakland A's ownership's efforts to build a new baseball park somewhere in the city?
Most people who are watching the 2018 World Series really don't care about TV ratings. They have an interest in the event because they are baseball fans or people who might to know what is happening so they can talk about it at home, at work or at a social function.
The Donald Trump tariff on steel, rebar and aluminum has caused the estimated price of the renovation of the Seattle arena to rise by about one hundred million dollars. The Seattle project probably won't be the only sports plan impacted.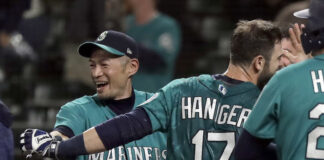 The Seattle Mariners Major League Baseball club owners and King County elected officials were trying to come up with a new deal that would extend the team's lease to use the municipal facility for another 25 years.
Baseball goes back to its mythological home this weekend with the Cooperstown, New York Hall of Fame's gala events.  The major ceremony is the induction of six former players getting a plaque sanctifying them as all-time greats along with others who will be recognized as making baseball better in some ways.
It's America's 242th birthday and there is a big question about the Major League Baseball industry. Why has in park attendance dropped to its lowest level in 15 years?
It took nine years but as of Tuesday afternoon at 1:30, three casinos at racetracks in Delaware will open sports betting parlors. In 2009, Delaware elected officials passed legislation that would allow the race track casinos to operate a sports book which would have greatly expanded Delaware's sports betting operation.
Busy weekend, baseball gets lost. https://www.youtube.com/watch?v=BZZM9im26hA There is a little bit of everything for every sports fan on Memorial Day, NBA playoffs, NHL playoffs, soccer, golf,...
It is Mother's Day and you will see baseball, basketball, soccer and hockey leagues through their radio, television and marketing partners say hello to women and throw in a story or two about women in sports.
There is a major horse race taking place in Louisville on Saturday. The Kentucky Derby. Three years ago, there was the hope that American Pharoah by winning Thoroughbred Racing's Triple Crown, would help revive the horse racing industry. It didn't.