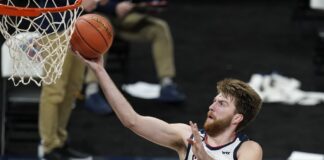 The first week of the college basketball season was filled with great games, a few upsets, stellar performances and a handful of coronavirus cancelations. Next...
The first Associated Press men's college basketball poll of the regular season remained steady at the top. The rest, predictably, was filled with change as...
Football practice was canceled at Boston College, Kentucky, South Florida, and other schools Thursday, joint decisions made by coaches and players and inspired by...
NEW ORLEANS (AP) — Georgia freshman receiver George Pickens left behind his regrettable ending to the regular season and put the rest of college...