Florida News: Blake Snell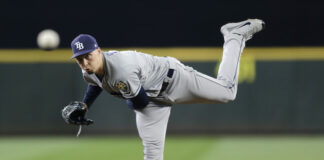 Every inning it became clearer and clearer that Blake Snell had something special going on Sunday afternoon in Seattle. Unfortunately, the Mariners would get the last laugh with two runs in the eighth to take the 2-1 win and a weekend sweep at Safeco Field.
Twice on Thursday night, in the Tampa Bay Rays' 6-3 win over the Boston Red Sox, Denard Span chased down a foul ball and went over the short wall, falling into the 162 Landing.  He didn't catch the ball either time, but the first time he landed on a fan and his beer.
Wilson Ramos homered twice and drove in three runs to lead the Tampa Bay Rays to their fifth straight win, 8-3 over the Los Angeles Angels on Friday night. Blake Snell (5-3) gave up two runs in 6 2/3 innings while striking out eight to help the Rays to their sixth win in seven games.
Snell Assumes Role As Ace Of Staff The Rays have an off-day on Monday and have a record of 15-17. While playing 2-games under .500...
The Tampa Bay Rays lost 3-2 to the Detroit Tigers on a walk off squeeze bunt in the 12th inning. It was their 15th one-run affair on the season and the Rays fall to 5-10 on the season.
Blake Snell worked a career high 7.1-innings holding the Boston Red Sox to just two runs en route to a Tampa Bay Rays 4-3 victory. Snell was backed by homers by Wilson Ramos, Rob Refsnyder, and Daniel Robertson.
Blake Snell held the Twins to 1-run in seven innings, C.J. Cron homered twice, and the Rays offense scored 10 runs en route to a 10-1 Rays victory.
C.J. Cron and Daniel Robertson both homered in the win, Blake Snell had his best performance of the young season, and the Rays cruised to their most convincing victory this season, winning 8-4 over the Texas Rangers.
Rays Struggle Through First Week Of Season A lot more to dislike than like, but it's a long season. Of course, everything here is in...
Price Dominates In First Start Of Season https://embed.air.tv/v1/embed/TaJ6HGLFQUyuwfaP5K7FeA/oTBxQb-0S56gkw7m9smoBQ?video_sizing=fixed&video_width=560&video_height=315&show_player_title=false&show_div_title=false&show_div_description=false The Boston Red Sox (1-1) defeated the Tampa  Bay Rays (1-1) by a final score of 1-0. David...