The Tampa Bay Rays five game winning streak was snapped losing to the Minnesota Twins 5-1 in the first game of their four game series.
Blake Snell's all star snub on Sunday night has been decried throughout Major League baseball, but solutions on how to select a better all star team are hard to come by.
Tampa Bay's Blake Snell and Wilson Ramos are hoping they both get selected to the American League All-Star team. Saturday afternoon's performance at Citi Field may have strengthened the batterymates' chances.
Mallex Smith's solo homer in the bottom of the eighth was the eventual game winning run as the Tampa Bay Rays defeated the Houston Astros 3-2.
With a 11-0 blowout win over the Washington Nationals, and a brilliant performance from Blake Snell, the Rays look like a team that could contend very soon.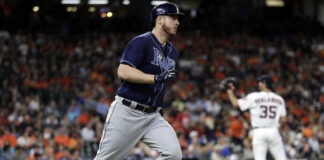 C.J. Cron homered early and Wilson Ramos hit a tiebreaking RBI single in the eighth inning to lift the Tampa Bay Rays to a 2-1 win on Tuesday night to snap a 12-game winning streak by the Houston Astros.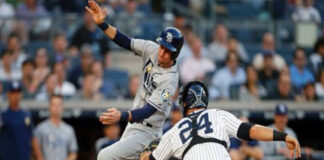 Gleyber Torres connected for a three run homer with 2-out in the fifth inning en route to a Yankees 4-3 victory over the Tampa Bay Rays. With the loss, the Rays fall to 10-18 in one run contests on the season.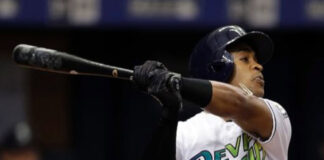 The Tampa Bay Rays defeated the Seattle Mariners 7-3 on Saturday evening bringing an end to their season long eight game losing streak. The Rays look for a series split Sunday afternoon. Nate Eovaldi takes the mound for Tampa Bay. Seattle counters with James Paxton.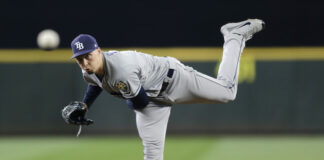 Every inning it became clearer and clearer that Blake Snell had something special going on Sunday afternoon in Seattle. Unfortunately, the Mariners would get the last laugh with two runs in the eighth to take the 2-1 win and a weekend sweep at Safeco Field.
Twice on Thursday night, in the Tampa Bay Rays' 6-3 win over the Boston Red Sox, Denard Span chased down a foul ball and went over the short wall, falling into the 162 Landing.  He didn't catch the ball either time, but the first time he landed on a fan and his beer.