Sports sells. https://www.youtube.com/watch?v=TA85qLrRWSw On July 2, 1921, David Sarnoff changed the sports world. Sarnoff got his bosses at the Radio Corporation of America or RCA to...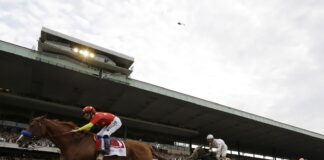 Throwback Saturday. https://www.youtube.com/watch?v=pSgD6AP_LTk&t=4s The Belmont Stakes, which started in 1867 in the Bronx, New York, will be run in Elmont, New York on the...
Just another sports event. https://www.youtube.com/watch?v=d29arKCMPXE&t=19s There is a little bit of everything for every sports fan on Memorial Day, NBA playoffs, NHL playoffs, soccer,...
A place to be seen. https://www.youtube.com/watch?v=o6QFA7VW3vA There is a major horse race taking place in Louisville. The Kentucky Derby. Four years ago, there was...
Rolling the dice. https://www.youtube.com/watch?v=3UNSJjwzmKY At one time, the Arena Football League had a following and one of its players Kurt Warner made it big as a...
On today's show, Rock talks the Pro Bowl. Is it the worst all-star game in pro sports? What should the NFL do to fix it? Plus, Rock talks Keith "One Time" Thurman Jr., NHL all-star game, and much more!
With Mayweather watching from ringside, Pacquiao showed flashes of his old speed in winning a unanimous 12-round decision over Broner to easily defend his piece of the welterweight title.
Pacquiao and Broner meet in a welterweight contest at the MGM Grand in Las Vegas that could pave the way for a second fight against Floyd Mayweather later this year. But Pacquiao not only needs to beat Broner, but do it in spectacular fashion to get a buzz going for what could be another lucrative fight with Mayweather.
On today's show, Rock talks the Bucs win over the Carolina Panthers. What has gotten into Jameis Winston? Can we expect this level of play moving forward? Has Koetter shown that he is still the right man for the job? Plus, Rock talks the college football playoff, the Bad Boy Mowers Gasparilla Bowl, and much more!
Did you see that three out of four Oakland residents are supporting the Oakland A's ownership's efforts to build a new baseball park somewhere in the city?