On today's episode, Rock brings you the latest from One Buc Place and discusses interim DC Mark Duffner's press conference. Rock also talks about last nights wild NLCS game 4 and the 'dirty' play by Manny Machado that cleared the benches.
Boxing, which has been a Summer Olympics mainstay since the 1904 St. Louis event, with the exception of the 1912 Stockholm Summer Games because Sweden had outlawed boxing, may be on the Olympics ropes.
It's America's 242th birthday and there is a big question about the Major League Baseball industry. Why has in park attendance dropped to its lowest level in 15 years?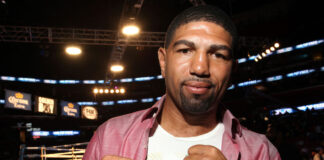 Boxing Hall of Famer Winky Wright joined the Rock Riley Show on Wednesday to discuss his stellar boxing career, Tampa Bay's boxing scene, and the sports world in general.
Busy weekend, baseball gets lost. https://www.youtube.com/watch?v=BZZM9im26hA There is a little bit of everything for every sports fan on Memorial Day, NBA playoffs, NHL playoffs, soccer, golf,...
There is a major horse race taking place in Louisville on Saturday. The Kentucky Derby. Three years ago, there was the hope that American Pharoah by winning Thoroughbred Racing's Triple Crown, would help revive the horse racing industry. It didn't.
Tampa Bay's long and proud boxing tradition continues on April 28th with No Pain No Gain 9 at the St. Petersburg Marriott Clearwater.
No Pain No Gain 9 features a Tampa firefighter ST. PETERSBURG - Professional Boxing Returns to St. Petersburg on Saturday April 28th at the St....
Will fight Alvarez May 5 BIG BEAR LAKE, Calif. (AP) — Gennady Golovkin plans to go ahead with his rematch against Canelo Alvarez on May...
White on Mayweather: "We'll see what happens" UFC President Dana White was on UFC Tonight on Wednesday night and spoke a number of different topics. White...