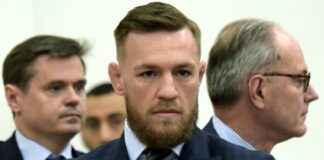 Conor McGregor spent more time in a courtroom today than he spent inside the octagon in the past year. McGregor's court hearing was like many of his past fights: quick.
The Charges Include One Felony And Three Misdemeanors UFC Superstar Conor McGregor has been charged by the New York police with one count of felony...
McGregor Is Facing Multiple Charges, Including Assault UFC Lightweight Champion Conor McGregor may not be fighting in the octagon Saturday night on UFC 223, but...