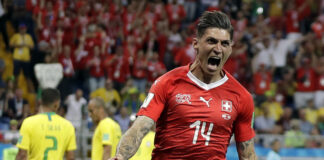 The latest action at the World Cup, from Germany's loss against Mexico to Brazil's draw with Switzerland.
The International Olympic Committee suffered a defeat at the polls in Sion and Valais, Switzerland on Sunday as voters rejected a chance to help fund the 2026 Winter Olympics in that area.
What is it about the Olympics that drives politicians and business leaders of various countries into denial when it comes to actually figuring out what hosting an Olympics really costs and how much of that debt is shoved onto taxpayers?
The majority of the stadiums built for the 2014 World Cup are wasting away unused and the 2016 Rio Olympics accumulated a mountain range of debt.