On today's show, Rock talks our Sports Talk Florida college football rankings. Plus, the latest Bucs talk, college basketball, UFC trash talk, and much more!
With his victory over Derrick Lewis Saturday night at UFC 230, Daniel Cormier became the first fighter in UFC history to defend two belts in two different weight classes. What's most impressive is that he was able to defend both the belts while holding the belts simultaneously. Cormier has defended both belts in an eleven month span.
Former UFC light heavyweight champion Jon Jones has been handed a 15-month suspension by the United States Anti-Doping Agency and will be able to return to the octagon by October 28th.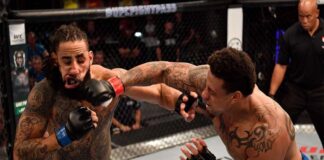 It's been said many times before.  The UFC needs superstars.  Are they getting desperate?  Maybe.  CM Punk did just fight...on pay-per-view...for a second time...even though he was dominated for over two minutes in his first fight.
There are many reasons why the UFC isn't as popular now as it was a couple years ago.  Here are the top five reasons why it is possible we have already seen the best of the UFC and unless the UFC fixes the problems listed below, we may have already seen the best of what the UFC has to offer.
White on Mayweather: "We'll see what happens" UFC President Dana White was on UFC Tonight on Wednesday night and spoke a number of different topics. White...
Hunt Speaks Out After Being Removed From Next Fight Saying that UFC Heavyweight Mark Hunt isn't happy about being removed from his next fight, is...