It could have been a scene from a playoff game. That it was merely the All-Star Home Run Derby mattered not to Harper or the Washington Nationals fans, who were thrilled to see their hometown hero deliver the night's final longball Monday.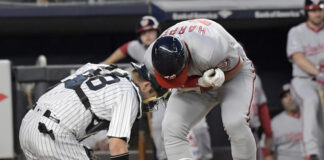 Didi Gregorius ended a long power outage with a pair of home runs, Washington slugger Bryce Harper left in the eighth inning after he was hit by a pitch for the second time, and the New York Yankees beat the Nationals 3-0 Tuesday night for their 10th win in 12 games.
Harper's Homer Helps Nationals Sweep The Marlins. Washington keeps rolling over Miami and moves closer to first place.
WASHINGTON (AP) -- Bryce Harper put up another big number Saturday without taking another swing. Harper and the Washington Nationals reached a $21,625,000 deal for...