MLB's dirty laundry is coming out in court. https://www.youtube.com/watch?v=_WwAYu2KQZs Dear Major League Baseball owners and members of the Major League Baseball Players Association. You have a...
C.J. Cron and Austin Meadows each homered as the Tampa Bay Rays defeated the Toronto Blue Jay 4-3.
C.J. Cron and Willy Adames each homered as the Tampa Bay Rays defeated the Oakland Athletics 5-4.
Tampa Bay falls to Boston 5-2 and drops to 62-61 on the season. They are 4-11 against Boston on the season and 4-4 on their 9-game road trip.
The Miami Marlins gave up the lead in the ninth but came back to defeat the Tampa Bay Rays 3-2 in the 10th inning. Yadier Rivera delivered the game winning single to Matt Duffy who was unable to accurately throw home to nab Brian Anderson who had walked to lead off the inning.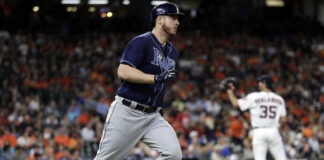 C.J. Cron homered early and Wilson Ramos hit a tiebreaking RBI single in the eighth inning to lift the Tampa Bay Rays to a 2-1 win on Tuesday night to snap a 12-game winning streak by the Houston Astros.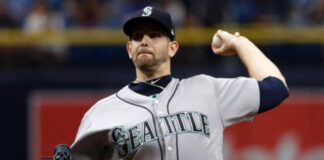 Kyle Seager's 2-run homer in the top of the seventh inning broke a 3-3 tie. That was all the runs the Mariners needed in defeating the Tampa Bay Rays on Sunday afternoon. The Mariners take 3-of-4 against the Rays at Tropicana Field and 6-of-7 in the season series.
The Rays rode Chris Archer's best start of the season to a 7-0 laugher of a victory. C.J. Cron, Denard Span, and Johnny Field homered for the Rays in a game that was scoreless entering the sixth inning.
The Tampa Bay Rays defeated the Baltimore Orioles 9-5 to extend their win streak to six straight. The Rays have won 9 of their last 14 to improve to 10-13 on the year. Their six game win streak is the longest in the Kevin Cash era and longest since the 2014 season.
Carlos Gomez, mired in a 2-for-38 skid, delivered a walk-off homer in the bottom of the ninth to lead the Rays to a 8-6 win and series sweep over the Minnesota Twins.