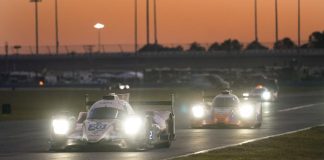 DAYTONA BEACH, Fla. (AP) — Chip Ganassi and Jimmie Johnson were both out of contention at the 24 Hours of Rolex at sunrise Sunday...
IMSA WEBSITE - Gerry Kraut and Scott Andrews picked up their second consecutive IMSA Prototype Challenge win on Saturday, but not without some drama,...
By David Phillips IMSA.COM - CHECK THE SITE FOR ALL RACING NEWS. In a perfect world, James Tiberius Kirk would be the Grand Marshal of...
Alonso drove the Cadillac DPi to the lead in each of his three stints at Daytona International Speedway.
Heavy rain drenched the field of the Rolex 24 at Daytona field with Fernando Alonso leading the endurance race at daybreak. IMSA stopped the race with a little more than seven hours remaining because of poor track conditions.