Home
Tags
CFP CHAMPIONSHIP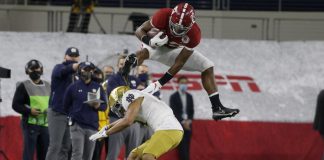 ARLINGTON, Texas (AP) — Top-ranked Alabama has two Heisman Trophy finalists and is in the College Football Playoff championship game for a record fifth...
NEW ORLEANS (AP) — Gloomy clouds were lingering over the Big Easy as the contestants were scheduled to arrived for the so-called national championship...
LAROSE, La. (AP) — A cardboard likeness of Ed Orgeron, wearing a purple polo with gold LSU lettering, stands in an entertainment parlor at...
GLENDALE, Ariz. (AP) — The matchup is set for a tantalizing College Football Playoff national championship game. On one side, defending champ Clemson, with its...