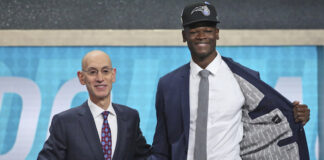 Going global. https://www.youtube.com/watch?v=MGnVq_98erQ While the National Basketball Association daily story seems to have drifted into soap opera land whether it is a storyline about LeBron James...
London and Mexico City are old stops. https://www.youtube.com/watch?v=eHrk1dEbXqI&t=6s The National Football League has big plans to get its product, games, into China's marketplace. But the league...
There is a sports impact. https://www.youtube.com/watch?v=g5LK8B_nuxs It is President's Day. The chief executive of the United States has an impact on just about every facet of...
Very few athletes go to jail for doping. https://www.youtube.com/watch?v=KBfknfU-Ac4&t=3s It appears China is ready to join Germany and Italy and prosecute athletes who have been tested...
And they are off. https://www.youtube.com/watch?v=nf5nytzv6U8 North Korea wants it, South Korea wants it. Indonesia wants it. They all want to host the 2032 Summer Olympics. For...
Major League Baseball is in the middle of its All Star tour of Japan. Recently, National Hockey League Commissioner Gary Bettman said the league has plans to stage 2019 pre-season games in Germany and Switzerland with regular season games in Prague, the Czech Republic and Stockholm, Sweden.
Florida Senator Marco Rubio doesn't think it is a very good idea for China to host the 2022 Winter Olympics.
National Basketball Association pre-season games are being played and in a sense, the pre-season is a reminder of what the National Basketball Association of the 1950s was like. Anyone willing to throw down a basketball floor could land a game.
The National Hockey League is finishing the annual promotion of its product in China with a second pre-season game in the country between the Boston Bruins and the Calgary Flames in Beijing.
Just a few days after International Olympic Committee President Thomas Bach declared that the press is the enemy of the IOC and is the cause of cities pulling out of the bidding for the IOC's crown jewel events, Indonesia's President announced that his country wants the 2032 Summer Games.