Home
Tags
Cristiano Ronaldo
LISBON, Portugal (AP) — Cristiano Ronaldo has tested positive for the coronavirus, the Portuguese soccer federation said Tuesday. The federation said Ronaldo was doing well...
LNEW YORK --AP-- Roger Federer leads the annual Forbes ranking of highest-paid athletes with what the magazine says is $106.3 million in total earnings. He...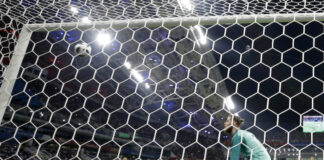 Ronaldo rubbed his chin after scoring minutes into Portugal's opener against Spain, implying he is the Greatest of All Time. Then he scored two more goals, including a perfectly placed 88th-minute free kick that gave his team a 3-3 draw Friday.