Florida News: Didi Gregorius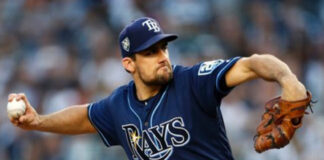 The Tampa Bay Rays dropped to five games under the .500 mark falling to the New York Yankees by a final score of 5-0 on Friday night.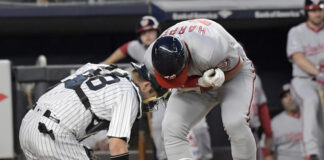 Didi Gregorius ended a long power outage with a pair of home runs, Washington slugger Bryce Harper left in the eighth inning after he was hit by a pitch for the second time, and the New York Yankees beat the Nationals 3-0 Tuesday night for their 10th win in 12 games.
With all the big names currently lacing up for the pinstripes, it is easy to lose sight of Gregorius, who may be the most well-rounded player on this team.
Didi Gregorius had another big game at Yankee Stadium with a two-run homer and three RBIs, and Gary Sanchez homered twice to help CC Sabathia and New York romp past the Minnesota Twins yet again, 8-3 on Tuesday night.
Didi Gregorius homered twice for the second time this season, Gary Sanchez had three hits and three RBIs, and the New York Yankees romped to a 12-1 victory over Derek Jeter's Miami Marlins on Monday night.
Brett Gardner, Matt Holliday, Starlin Castro and Didi Gregorius all hit solo home runs in the eighth inning, leading Jordan Montgomery and the New York Yankees over the Toronto Blue Jays 7-0 on Saturday. The Yankees tied the franchise record with four homers in an inning. Gardner led it off with a home run and then with two outs, Holliday, Castro and Gregorius connected in succession.