Nashville backers have a while before MLB will expand. https://www.youtube.com/watch?v=V08qTAe0VFA The Nashville Stars baseball business has added Don Mattingly, who is presently a Toronto coach, as...
Baseball is still looking backwards. https://www.youtube.com/watch?v=T6l12RSmG3s The Cooperstown, New York Baseball shrine is having yet another vote looking for Hall of Famers. There is the baseball...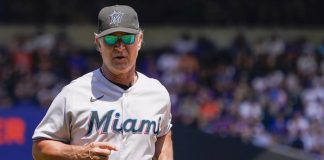 MIAMI (AP) — Don Mattingly wants what's best for the Miami Marlins, what's best for him and what's best for his family. And he decided...
Tampa Bay's Kevin Cash won the AL Manager of the Year award on Tuesday night, and Miami's Don Mattingly took home the NL honor. Long...