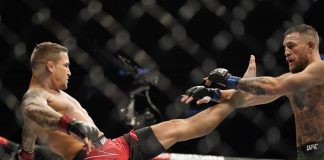 Dustin Poirier has already had a year to remember. The UFC lightweight cemented his place in mixed martial arts history by bullying, battering and...
The UFC will be at the State Farm Arena Saturday night in Atlanta, GA and have two titles up for grabs. Both titles are...
Khabib Nurmagomedov Wants to Fight St-Pierre in November One of the greatest to ever step foot in the octagon is planning on announcing his retirement...
Don't Expect to See Either Fighter in the Cage Anytime Soon Two of the biggest superstars in the UFC were disciplined for what took place...
Not even three days have passed since the biggest knockout of his career and Derrick Lewis already has another fight lined up. On November 3rd, Lewis will square off with heavyweight champion Daniel Cormier in the main event at UFC 230 at Madison Square Garden.
UFC 229 was headlined by one of the most anticipated fights in the organization's history. The most popular fighter in the UFC, Conor McGregor, was looking to not only win back the lightweight championship he was stripped of but also hand Khaibib Nurmagomedov his first loss.
UFC 230 has it all. It's at Madison Square Garden. The co-main event features the long-awaited return of Nate Diaz who is fighting the soaring Dustin Poirier. Six of the top ten middleweights are also on the card. Yep, the card pretty much has everything. That is...except for the main event.
The UFC lightweight division has some of the most talented fighters not just in the UFC currently, but it could be the most stacked division we have ever seen in MMA.  There are no clear number-one contenders for current lightweight champion Khabib Nurmagomedov.