Home
Tags
Florida Gators Football
Tag: Florida Gators Football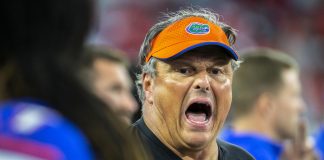 GAINESVILLE, Fla. (AP) — Florida fired defensive coordinator Todd Grantham and offensive line coach John Hevesy on Sunday, parting with the two assistants one...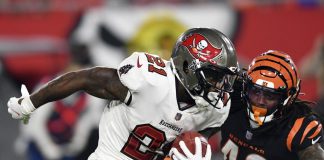 By: Michelle Sabin Sports Talk Florida - Bucs Reporter Tampa Bay Buccaneers were eager to defend their 2020 Championship Season as they took on the Cincinnati...
GAINESVILLE, Fla. (AP) — Florida announced the hiring of Wesley McGriff as its secondary coach Saturday, replacing two assistants coach Dan Mullen fired after...
ATLANTA AP - There are 130 major college football teams, spread across 41 states and competing in 10 conferences, save for a handful...
On today's show, Rock dives into the upcoming weekend of football. He has all of your Bucs info. Will the defense show up on Sunday? How will Fitzpatrick play? Is Jameis done as a Buc? Plus, Rock talks college football, the Gator's quarterback play, their matchup with South Carolina, and much more.
On today's show, Rock discusses the Bucs' current situation. Should Jameis Winston take another snap as the Bucs QB? Is Dirk Koetter on the hot seat? Plus USF football talk, Floyd Mayweather news, and much more.
Tyler Bradley and Timothy Mallard bring you Tampa Bay Sports This Morning! The Bolts sneak out a win and make it to 6-1-1 with the last 2 games of their 5 game road trip just ahead. Florida State takes on Clemson this Saturday what do the Noles have to do to improve to 5-3? What will we see from the Dodgers as the World Series switches from Boston to Los Angeles for games 3 through 5? Will Brocktober continue for Miami?
On today's show, Rock previewed the big SEC East match-up between Florida Gators and Georgia Bulldogs game this Saturday in Jacksonville.
With the Tampa Bay Buccaneers on a bye this week. Tyler Bradley and Timothy Mallard give you the latest from all around the State of Florida. From Cincinnati where the Dolphins battle the Bengals, all the way to Coral Gables where the Seminoles take on the Hurricanes.
Mike Nabors filling in for EK and he's covering everything you could possibly want! Is this the best time to be a Tampa sports fan?