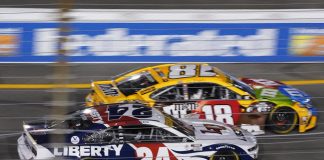 NASCAR CUP SERIES Hollywood Casino 400 Site: Kansas City, Kansas Schedule: Sunday, race, 3 p.m. Track: Kansas Speedway Race distance: 267 laps, 400.5 miles Last year: Joey Logano won after...
A race is slated for 2022. https://www.youtube.com/watch?v=XeRDGBCBVts There was a simple twitter announcement from the people who run Formula 1 auto racing. We're going to Miami. Technically...
Looking to hit the road. https://www.youtube.com/watch?v=jgtFecmx5HQ A year ago, the city of Miami made a bid to host Formula One auto racing beginning in...
The city of Miami wants Formula 1 auto racing beginning in 2019. The executives who run Formula 1 racing want Miami and promise that the race will bring in $700 million for Miami in economic impact.
The first getting to know you meeting with potential owners of a Montreal Major League Baseball team and Mayor Valerie Plante took place last week and Plante seems open to support Stephen Bronfman and Mitch Garber's plan to bring a team back to the city.
It may take another four years for Montreal to get a Major League Baseball team. https://www.youtube.com/watch?v=xLyM9fkANXA Major League Baseball suffered its first loss of the 2017-2018...