Home
Tags
Georges St-Pierre
Khabib Nurmagomedov Wants to Fight St-Pierre in November One of the greatest to ever step foot in the octagon is planning on announcing his retirement...
With his victory over Derrick Lewis Saturday night at UFC 230, Daniel Cormier became the first fighter in UFC history to defend two belts in two different weight classes. What's most impressive is that he was able to defend both the belts while holding the belts simultaneously. Cormier has defended both belts in an eleven month span.
UFC 229 was headlined by one of the most anticipated fights in the organization's history. The most popular fighter in the UFC, Conor McGregor, was looking to not only win back the lightweight championship he was stripped of but also hand Khaibib Nurmagomedov his first loss.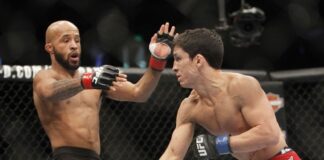 The main event of UFC 225 is a good one, featuring a rematch between the two best fighters in the world at 185 lbs.  Robert Whittaker will look to defend his middleweight belt for the first time against #1 Yoel Romero.  Whittaker (19-4) won the interim belt when he faced Romero (13-2) at UFC 213 last July.
There are many reasons why the UFC isn't as popular now as it was a couple years ago.  Here are the top five reasons why it is possible we have already seen the best of the UFC and unless the UFC fixes the problems listed below, we may have already seen the best of what the UFC has to offer.
Max Holloway Will Fight Khabib Nurmagomedov For Lightweight Title What MMA fans were hoping was just a sick April Fools joke, is unfortunately very real. ...
The Two Champs Will Coach TUF, Fight At UFC 226 When the UFC's three biggest superstars (Conor McGregor, Jon Jones and Ronda Rousey) all have...
The UFC's biggest star was a little naughty in 2017, leaving the sport of mixed-martial arts to go box Floyd Mayweather for a huge payday.
A Card With Plenty Of Finishes And Great Fights UFC 217 will be an event that fighters, the organization and fans will never forget.  All...
He's baaaack....One of the greatest fighters to ever step inside the octagon returns after a four-year hiatus. When Georges St-Pierre announced he was taking time off in November 2013, many were unsure if we would ever see the nine-time defending welterweight champion fight in the UFC again.