Florida News: Gleyber Torres
Craig Kimbrel and the Boston Red Sox held off the Yankees' ninth-inning rally that ended with a video replay, eliminating New York with a 4-3 victory Tuesday night that set up a postseason rematch with the World Series champion Houston Astros.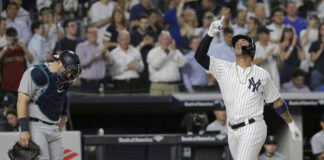 Domingo German tossed two-hit ball over a career-high seven innings and Giancarlo Stanton hit one of New York's four home runs Tuesday night in a 7-2 victory against the Mariners.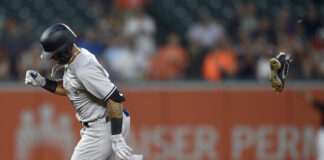 New York parlayed a solid pitching performance by Sonny Gray and a home run by Aaron Judge into a 4-1 victory over the Baltimore Orioles on Friday night.
In a series featuring two perennial world series contenders in the American League, the New York Yankees grabbed two of three from the Houston Astros. This series was a measuring stick to see not only how good the Yankees are this season but, also where they need to get to in order to reach the pinnacle of baseball.
Gleyber Torres made a throwing error after gloving a grounder on the very first pitch of the game. The second baseman let a two-hopper kick off the heel of his glove in the seventh for the fourth of the Yankees' five errors.
A number of young players and bottom-of-the-order hitters are producing for the New York Yankees, and that is making a big difference in a tight AL East.
The New York Yankees took two of three from the Texas Rangers in a series loaded with young star power all over the diamond.
Cole Hamels limited the slugging New York Yankees to four hits over seven innings while Jurickson Profar and Ronald Guzman homered for the last-place Texas Rangers in a 6-4 win Tuesday night.
Gleyber Torres hit two of the four Yankees homers off Bartolo Colon and New York won 10-5 on Monday night to deny the Texas Rangers starter a milestone victory only three days before his 45th birthday.
Top prospect Gleyber Torres went 0 for 4 and stranded six runners during his highly anticipated debut for the New York Yankees, who nonetheless cruised to a 5-1 victory Sunday against the Toronto Blue Jays.