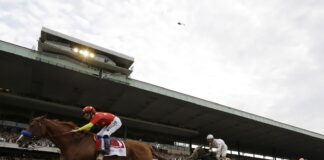 NEW YORK (AP) — When Bob Baffert was banned from entering horses in the Belmont Stakes, it was the latest example of the New...
Ohio State needs to find an opponent or a rule will be broken. https://www.youtube.com/watch?v=bGpwqlnWw1Q The college football industry has never had much integrity. The Marx Brothers...
You have to applaud the National Collegiate Athletic Association for continuing to put sports and sports revenues over integrity on a constant basis.
If the college sports industry paid student-athletes, there probably would not be an ongoing FBI investigation of the business. The NCAA somehow has sold the notion that it is fine for them to make billions of dollars off of the backs of unpaid labor as long as they give a scholarship to the performers.