Florida News: horse racing
There is money to be made. https://www.youtube.com/watch?v=IMkVbHuqQO4&t=4s NASCAR is putting the finishing touches on its first big event of the 2019 season, the Daytona 500, and...
It's America's 242th birthday and there is a big question about the Major League Baseball industry. Why has in park attendance dropped to its lowest level in 15 years?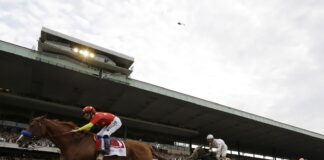 Justify led all the way to win the Belmont Stakes by 1¾ lengths on Saturday and become horse racing's 13th Triple Crown champion and second in four years.
It took nine years but as of Tuesday afternoon at 1:30, three casinos at racetracks in Delaware will open sports betting parlors. In 2009, Delaware elected officials passed legislation that would allow the race track casinos to operate a sports book which would have greatly expanded Delaware's sports betting operation.
Busy weekend, baseball gets lost. https://www.youtube.com/watch?v=BZZM9im26hA There is a little bit of everything for every sports fan on Memorial Day, NBA playoffs, NHL playoffs, soccer, golf,...
Kentucky Derby winner Justify has gotten acquainted with the track at Pimlico Race Course, where he will attempt to keep his Triple Crown hopes alive Saturday in the Preakness.
Horse racing has been struggling for years to regain a strong footing on the national sports landscape, and owners hope to use betting on other sports to bring fans back to the tracks.
Where have you gone Joe DiMaggio? https://www.youtube.com/watch?v=-UzzdHcyorA February is an unusual time on the United States on the sports calendar. Football says goodbye with the ultimate...
changes could be coming https://www.youtube.com/watch?v=bEZIwCDKsQA The New York State legislature has gone back to work and the horse racing industry is watching Albany very closely because...
the ratings are tumbling for everyone. https://www.youtube.com/watch?v=Y88RQJjP2vw&feature=youtu.be Is it time to stop whining about the decline in National Football League television ratings and take a look...