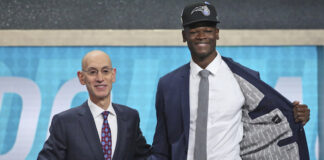 Going global. https://www.youtube.com/watch?v=MGnVq_98erQ While the National Basketball Association daily story seems to have drifted into soap opera land whether it is a storyline about LeBron James...
Indian rupees are appealing. https://www.youtube.com/watch?v=-JlSb4XUKI4&t=5s The National Basketball Association is going to India to play pre-season games in the fall of 2019. It is the first...
And they are off. https://www.youtube.com/watch?v=nf5nytzv6U8 North Korea wants it, South Korea wants it. Indonesia wants it. They all want to host the 2032 Summer Olympics. For...
The National Basketball Association season is underway but the Commissioner Adam Silver, his staff and the 30 owners are looking into the future and expanding the brand.
Just a few days after International Olympic Committee President Thomas Bach declared that the press is the enemy of the IOC and is the cause of cities pulling out of the bidding for the IOC's crown jewel events, Indonesia's President announced that his country wants the 2032 Summer Games.
The majority of the stadiums built for the 2014 World Cup are wasting away unused and the 2016 Rio Olympics accumulated a mountain range of debt.
The International Olympic Committee may have three suitors for the 2032 Summer Games. In the it is never too early to plan an event 15...