The Tampa Bay Rays became the first team to shutout the Texas Ranger in their home park this season defeating them 3-0 Monday night. It's the Rays 13th shutout of the season.
Jake Bauers delivered a 3-run homer in the 8th inning en route to a 7-5 victory over the Athletics to push the Rays to 81-66 on the year.
The Tampa Bay Rays defeated the Kansas City Royals Thursday night in a wild win on a walkoff error.
The Tampa Bay Rays rallied back from an early deficit to beat the Baltimore Orioles and take a prove-it series against a team they should be beating.
Tyler Glasnow showed some flashes of his tremendous potential, and homers from Willy Adames and Jake Bauers paced the Rays over the Angels.
The Tampa Bay Rays jumped on Angels starter Tyler Skaggs early and often Tuesday night en route to a 10-6 victory.
It took every pitch, and every inch of the Rays' margin for error to finish off a 7-6 win over New York on Monday night, a game in which the Yankees had the bases loaded in the top of the ninth inning. 
Thus far in 2018 the Tampa Bay Rays have relied on steady pitching with the offense helping out sporadically. Saturday in Minneapolis, the offense took center stage pounding out 20-hits in defeating the Twins 19-6.
The Tampa Bay Rays were unable to rebound from an early 7-run deficit falling to the  Minnesota Twins 11-8.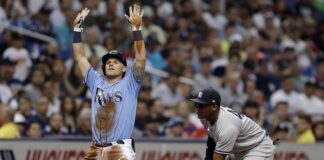 The young Domingo German was tested in the finale with the Yankees dropping the first two games of this set against the 3rd place Tampa Bay Rays. The Rays countered with a bullpen day featuring Matt Andriese on the hill. German was asked to halt the Rays momentum and pitch the Yankees to a crucial series salvaging win.