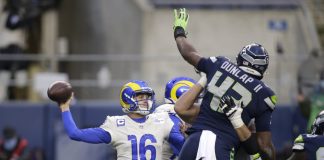 THOUSAND OAKS, Calif. (AP) — Jared Goff and Sean McVay say they had a healthy, productive disagreement last week about Goff's readiness to return...
On today's show, Rock talks the NFL conference championship games. The Super Bowl is set. Was the blown call in the New Orleans game the worst you've seen? Should the NFL consider replay for penalties? Plus, Rock talks MMA, college hoops, and much more!
Jacksonville Looks For Their Second Straight Win As The Rams Travel To EverBank Field Jacksonville, FLA -- The Jacksonville Jaguars (3-2) host the Los Angeles...