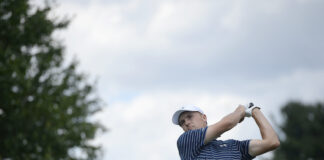 LOS ANGELES (AP) — The text messages were meant to encourage. They felt like back-handed compliments to Jordan Spieth. He had just posted his second...
Farmingdale, NY- In 2002, Bethpage Black became the first public golf course to host the US Open. It broke a long-standing mold and was...
Golf stopped the world for a bit on Sunday around noon, as Woods at one point Sunday was tied for the Open Championship lead.  When he putted, anyone within eyeshot of a television screen held their breath. 
When golf fans turned on their televisions or opened their streams on Saturday, they were welcomed back to The Open Championship with a welcome sight.  Tiger Woods, still working on his comeback after several years on Tour shortened or erased by injuries, was making his charge on Moving Day.
At The Open Championship, golf truly looks ancient.  The links-style courses without trees, the often brown fairways and pot bunkers that look like they could host archaeological digs look a bit removed from the lush, dark green hues we are so used to during the PGA TOUR season.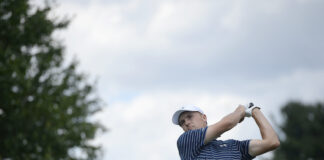 Opening day of a golf tournament is a curious event. Spectators only have the results of the prior weeks and fame resulting from the player's name. Jordan Spieth gave fans at the 2017 Traveler's Championship an unforgettable moment with his tournament winner from the greenside bunker and subsequent celebratory chest-bump with caddy Michael Greller.
Dustin Johnson shines, Tiger Woods misses the cut, and the US Open once again proves itself the toughest test in golf though 36 holes.
Dustin Johnson, Webb Simpson and Alex Noren set the pace early. Matt Kuchar, Chesson Hadley and Patrick Cantlay joined them late. All were at 66, part of the largest share of the lead in the opening round at the TPC Sawgrass, and the most players tied at the top at The Players in 40 years.
2016 Ryder Cup hero earned his green jacket Augusta was ripe for a low score on Sunday. Early tee times from players out of contention...
Leads Masters at -6 AUGUSTA, Ga. (AP) — Tiger Woods attracted most of the attention. Jordan Spieth caused the most concern. Opening day at the Masters...