We Got Verlandered. A simple way for Kevin Cash to describe what happened to the Rays in their Game 1 6-2 defeat in the best-of-five ALDS.
Blake Snell allowed a trio of homers as the Tampa Bay Rays home opener was spoiled by Justin Verlander and the Houston Astros.
On today's show, Rock is discussing the fan interference controversy that robbed Jose Altuve of a two run homer during Wednesday's game 4 of the ALCS. The Houston Astros would end up losing by two runs 8-6. Do you think this controversy will rob the Astros from going to the World Series?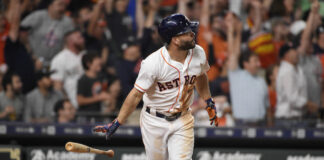 Jose Altuve homered twice, including the last of three straight by the Astros in the sixth inning, to lift Houston to a 5-1 win over the Tampa Bay Rays on Wednesday night.