Florida News: Jose Alvarado
Follow @Steve_Kinsella1 !function(d,s,id){var js,fjs=d.getElementsByTagName(s),p=/^http:/.test(d.location)?'http':'https';if(!d.getElementById(id)){js=d.createElement(s);js.id=id;js.src=p+'://platform.twitter.com/widgets.js';fjs.parentNode.insertBefore(js,fjs);}}(document, 'script', 'twitter-wjs'); Rays Return A Powerful Pen, Reinforcements Still Needed https://youtu.be/_WEQ_0seNRM
Austin Meadows started the game off with a mammoth homer and the Rays carried the lead to a 6-3 victory over the Cleveland Indians.
The Rays picked up a much needed victory by defeating the Red Sox after losing three tough games to them in St. Petersburg last weekend.
Tyler Glasnow worked five solid frames and for the second night in a row the Rays 'pen went four scoreless frames en route to a 3-1 Rays win.
The Tampa Bay Rays became the first team to shutout the Texas Ranger in their home park this season defeating them 3-0 Monday night. It's the Rays 13th shutout of the season.
The Tampa Bay Rays scored three times in the seventh inning en route to a 4-0 victory over the Toronto Blue Jays.
The Tampa Bay Rays defeated the Cleveland Indians 6-4 on Sunday afternoon in the rubber game of their three game weekend series.
The Tampa Bay Rays used six pitchers in defeating the Toronto Blue Jays 3-1 on Saturday afternoon.
The Tampa Bay Rays rallied for a pair of runs in the eighth inning to tie the game but lost 3-2 in 10 innings to fall to 56-54.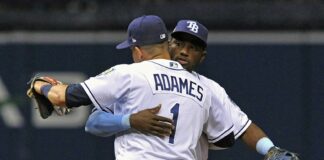 The Tampa Bay Rays defeated the Houston Astros 3-2 but lost Wilmer Font to a lat strain. According to Manager Kevin Cash, expect Font to miss significant time.