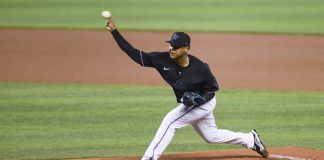 Palm Beach County officials have no problems investing in the complex. https://www.youtube.com/watch?v=UIEeTuzcNN8 The May 2022 government money investment in sports tour continued with Jupiter, Florida officials...
Money people are still investing in baseball.   https://www.youtube.com/watch?v=VvwTf-y5avg Some baseball consumers are irate over the sign stealing practices by the 2017 World Series Champions, the Houston...
Show us the money. https://www.youtube.com/watch?v=_-COcAvl4ME Jupiter, Florida taxpayers will soon be answering a question. Do you want to invest more than one hundred million dollars...
What exactly is the Patriot Way? https://www.youtube.com/watch?v=-jD65AbuAnA&t=3s National Football League owners are meeting this week and it figures to be a run of the mill session...
It is back to the drawing board in Jupiter, Florida for the owners of the St. Louis Cardinals and the Miami Marlins and local officials who are discussing how to proceed with plans to renovate the spring training complex in the town
Did you hear that the Miami Marlins and the St. Louis Cardinals baseball teams owners are unhappy with the shared spring training facility in Jupiter, Florida? But the two team owners have an idea.