Manager Kevin Cash would prefer the Rays pick up pitching, pitching, and more pitching this off-season.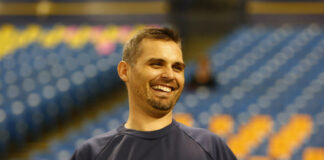 The Tampa Bay Rays provided stability in their dugout by extending Manager Kevin Cash through the 2024 season with an option for 2025.
Coming into Monday night's series opener between the Tampa Bay Rays and visiting Cleveland Indians, nobody would have guessed that Tampa Bay opener Diego Castillo would outlast Indians starter Corey Kluber. 
The New York Yankees and the Tampa Bay Rays provided entertainment in the matinee, getting themselves into an interesting kind of pitcher's duel, with the Rays' scrambled-together bullpen day keeping them in position en route to a 3-2 victory in the rubber match of a three game series.
With a 4-2 win over the Detroit Tigers on Wednesday, the Rays have earned a sweep, a guaranteed .500 or better record coming into the All Star break, and a 26-17 record at Tropicana Field this season.
Carlos Gomez, mired in a 2-for-38 skid, delivered a walk-off homer in the bottom of the ninth to lead the Rays to a 8-6 win and series sweep over the Minnesota Twins.
For the third season in a row, the Tampa Bay Rays more than likely have lost center fielder Kevin Kiermaier to a prolonged injury. Kiermaier will have an MRI on his right thumb Monday morning to determine the severity of the damage.
Rays Neander Believes Talent Is There https://youtu.be/jylGJOU-D_Y Tampa Bay Rays baseball is back. Pitchers and catchers reported to Port Charlotte on Wednesday with the full squad...
Injury Bug Short Circuits Rays In 2015 The Rays arrived in Port Charlotte in mid-February 2015 looking to put their first losing season since 2007...