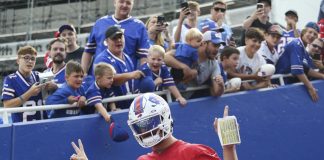 Bills ownership wants a new stadium. https://www.youtube.com/watch?v=UQWFEC7NBDI On August 24th, Kathy Hochul will be sworn in as the governor of New York replacing Andrew Cuomo who...
In May, the Buffalo Bills ownership had no timetable in the pursuit of either pushing for a new stadium or looking for money for yet another renovation of the team's present home that opened in 1973.
New stadium or not? Does Terry Pegula want a new stadium for his NFL Buffalo Bills franchise somewhere in the Buffalo metropolitan area or is...