Home
Tags
Lance McCulllers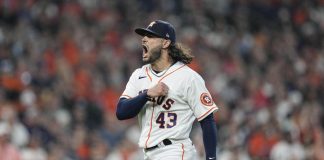 HOUSTON (AP) — Sidelined for the AL Championship Series, Houston Astros ace Lance McCullers Jr. is heartbroken. He is trying to stay upbeat by...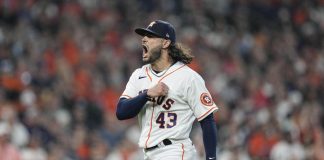 HOUSTON (AP) — Lance McCullers Jr. was terrific. Yordan Alvarez delivered, and Jose Altuve scored on a nifty slide. The Houston Astros sure love October. McCullers...
HOUSTON (AP) — Tanpa Catholic High School will be well represented today Chicago White Sox manager Tony La Russa faces Houston ace and...
SAN DIEGO (AP) — George Springer and José Altuve keyed a four-run rally in the fifth inning, Framber Valdéz pitched six brilliant innings and...
HOUSTON (AP) — Right-hander Lance McCullers and the Houston Astros agreed Friday to a $4.1 million, one-year contract, the same salary he had last...
It was game 7 of the American League Championship Series and the Houston Astros were able to silence the New York Yankees bats with the help of former Tampa Catholic star pitcher Lance McCullers Jr. He came in relief after Charlie Morton and the duo combined for a three-hitter, Jose Altuve and Evan Gattis homered and the Astros reached the World Series for only the second time by shutting out the Yankees 4-0 Saturday night.
Late this afternoon in the Bronx standing on the mound for the Houston Astros will be the pride of Tampa Catholic High School, Lance McCullers Jr. In the important Game 4 of the American League Championship Series, it will be McCullers Jr. who gets the ball because the Astros see him as one of their long-term pitching aces.
Tampa native Lance McCullers Jr. (6-1, 2.48 ERA) is on the mound as the major league-leading Astros (39-16) look for their ninth consecutive victory when they visit the rival Rangers. McCullers has won four straight decisions and was just selected the American League pitcher of the month for May, when he was 4-0 with a 0.99 ERA and 37 strikeouts over 36 1/3 innings. Houston also had the AL pitcher of the month for April in ace lefty Dallas Keuchel, who is now 9-0.