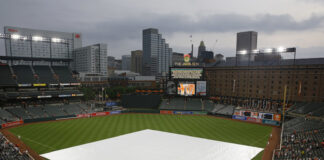 Rumor du jour. https://www.youtube.com/watch?v=nquO3G5tqMs&t=1s Baltimore Sun writer Peter Schmuck had an interesting column last week about the long term future of Major League Baseball's Baltimore Orioles...
The city of Miami wants Formula 1 auto racing beginning in 2019. The executives who run Formula 1 racing want Miami and promise that the race will bring in $700 million for Miami in economic impact.
The NHL's Vegas Golden Knights franchise will be joined by the NFL's Mark Davis Raiders in two years, the NBA has a summer development league in town and Major League Baseball might be interested in at least kicking the tires and take a look at the city in the event there is an expansion or relocation opportunity in the future.
Major League Baseball played some regular season games in Monterey in the late 1990s causing then Colorado Rockies owner Jerry McMorris to enthusiastically push for a franchise in the city that is not far from the Texas-Mexico border.
A hockey fan in the Quebec City area might be watching the Vegas Golden Knights Stanley Cup Playoffs run and might be saying that could have been us. The Quebec Nordiques could be stunning the sports world. Las Vegas and Quebec City were in the running for a 2017 expansion team or teams.
The reality has set in. There will be no turning back and the sports world in the United States is going to have to adjust to what most of the other sports operators in the world have understood for decades. There is gambling on sports and there is nothing you can do, so embrace it.
The National Football League plans to lobby Congress to come up with some sort of framework to perhaps regulate sports betting although it is not exactly clear what Congress can do to give the NFL want it wants. In fact, it appears the NFL doesn't know what it wants except to protect the integrity of the NFL.
Legalized sports betting is coming to New Jersey very soon and more than likely Delaware very quickly. The Supreme Court of the United States has struck down the 1992 Professional and Amateur Sports Protection Act that limited betting on professional sports and college sports to just four states.
Today is the final day of the 2018 NFL Draft but it will not be the last time the Oakland Raiders franchise is on the board selecting a player. Mark Davis's team will be in Oakland this year but will eventually call Las Vegas home possibly by 2020.
Alameda officials want to get out of the deal with Oakland in the ownership of the Coliseum and the arena in the city. They are negotiating an exit deal. The thought is let Oakland manage the property and decide what to do with the stadium and arena and parking lot.