Home
Tags
Major League Baseball Players Association
Tag: Major League Baseball Players Association
You have to wonder if Boston Red Sox customers really want to lose two home chances to see the New York Yankees in 2019. One of baseball's oldest and most combative rivalries is going across the pond with the Yankees and Red Sox playing two games in London, England during the 2019 season.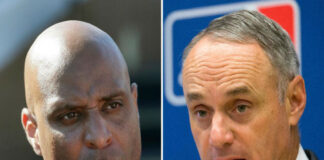 Is baseball sending aid to Puerto Rico? https://www.youtube.com/watch?v=fdzzfVP5eBU&t=6s It appears that Major League Baseball is going ahead with a two game series featuring Minnesota and Cleveland on...
Marvin Miller deserves official recognition. https://www.youtube.com/watch?v=Qm29JQ36ApY There are so many Baseball Hall of Fame Elections that sometimes it is hard to keep track of them. There...
Major League Baseball Commissioner Rob Manfred would like to retire Chief Wahoo. TOPPS trading cards, which has been a partner of Major League Baseball and...