Home
Tags
Masahiro Tanaka
TOKYO (AP) — Masahiro Tanaka is returning to pitch for his former team in Japan after seven seasons with the New York Yankees. The Rakuten...
NEW YORK (AP) — José Alvarado stepped onto the Yankee Stadium mound, 18 hours after walking off with a look of disgust when he...
On Thursday afternoon, the Rays proved they can compete with the New York Yankees with a 3-1 win over New York that gave Tampa Bay the three game series.
Yankees starter Masahiro Tanaka extended his unbeaten streak to 13 starts in a victory over an Orioles team shedding veterans at the trade deadline.
The New York Yankees' bullpen, even before adding Zach Britton, has been one of the most formidable in baseball and perhaps the highlight of a loaded ballclub.  On Tuesday night, they got a night off as Masahiro Tanaka threw a complete game shutout and the Yankees evened this week's series against the Rays with a 4-0 victory.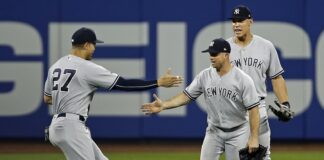 Brett Gardner hit a tiebreaking, two-run homer off Jacob deGrom on an eighth-inning changeup, and the New York Yankees beat the reeling Mets 4-1 Friday night in the Subway Series opener after losing Masahiro Tanaka to hamstring problems when the pitcher sprinted home to score his first major league run.