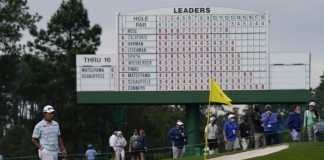 AUGUSTA, Ga. (AP) — The storms that stopped play for a little more than hour Saturday at the Masters were expected. The masterpiece delivered...
THOUSAND OAKS, Calif. (AP) — Nick Taylor has never been to the Masters. He already is motivated to get back. Taylor is excited to be...
NEW YORK -AP- The Masters goes from that annual rite of spring to two weeks before Thanksgiving. The U.S. Open now is scheduled in...