As the 2018 FIFA World Cup winds down, Tunisia sent out a reminder recently that it is never too early to plan ahead and try to get FIFA to choose you for a World Cup more than a decade away.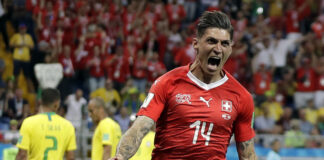 The latest action at the World Cup, from Germany's loss against Mexico to Brazil's draw with Switzerland.
Major League Baseball played some regular season games in Monterey in the late 1990s causing then Colorado Rockies owner Jerry McMorris to enthusiastically push for a franchise in the city that is not far from the Texas-Mexico border.
The 2026 World Cup is coming to North America. United 2026 gave into FIFA's demands. All the North American stadiums that will host the matches must have grass fields.
Orlando And Miami Excited About The 2026 World Cup's Return To North America. There is plenty of excitement about the World Cup heading back to North America.
Delegates from the governing body of soccer, FIFA, will be handing out the 2026 World Cup to either the United 2026 coalition of the United States, Canada and Mexico or Morocco on Wednesday at a meeting in Moscow, Russia.
FIFA has already been guaranteed an $11 billion profit by the backers of United 2026, a coalition of three countries, the United States, Canada and Mexico.
The governing body of global soccer, FIFA is meeting in Hungary with just one pressing topic on the group's agenda. Have the United 2026 and Morocco 2026 World Cup bids progressed enough that the two bids can be considered on June 13 and that FIFA can award the 2026 World Cup on that date in a meeting in Moscow, Russia.
You have to wonder if Boston Red Sox customers really want to lose two home chances to see the New York Yankees in 2019. One of baseball's oldest and most combative rivalries is going across the pond with the Yankees and Red Sox playing two games in London, England during the 2019 season.
It is Cinco de Mayo which for some reason resonates in the United States with celebrations at bars and taverns with revelers having no real knowledge of why it is a holiday in Mexico. On May 5, 1862, an undermanned Mexican army defeated the French at the Battle of Puebla and it was also the last time a European nation attacked a North American country.