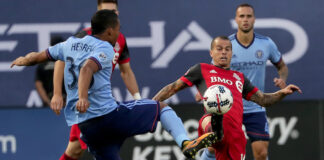 Has Major League Soccer given Austin an expansion team or is the league still searching for two cities to get the membership up to the stated goal of having 28 teams?
Boston College and Miami are among the Atlantic Coast conference's most compelling programs. The Eagles feature star runner AJ Dillon and are surging towards the rankings. The Hurricanes, meanwhile, have slumped since their 10-0 start to last season and loss to Pittsburgh. The teams going in opposite directions met on Friday night and reinforced their program's respective directions after a fun game.
A classic rivalry game graces televisions nationwide as 3-2 Florida State looks to play "upset" against the 4-1 Miami Hurricanes. For the first time in a long time the Seminoles are coming in as a double-digit underdog, according to odds released by Vegas Insider, and stats are there to back up that statement this year.
It is weekend four of the National Football League season and it appears that National Football League owners do not have financial difficulties despite an erosion in television ratings, a drop in attendance although that can be pinned on the move of the Spanos family Chargers franchise from San Diego to Los Angeles and the constant talk of national anthem protests.
The struggle to find cities with the right stuff to join Major League Soccer continues but league owners should be happy with some of the latest developments.
David Beckham is in campaign mode. Beckham and his business partners now have to sell their soccer stadium proposal to Miami voters who will decide in November if they really really want a posh soccer stadium in town to house Beckham's team.
Miami voters will have the last say on whether international soccer icon David Beckham can build the stadium he wants for his Major League Soccer expansion team.
Four years ago David Beckham got the go ahead from Major League Soccer to put together a team somewhere in the Miami area. Nearly four and a half years later, there is still no team on the field because Beckham and various partners have no field for various reasons.
Homestead 's baseball dream crashed because of the 1992 hurricane. https://www.youtube.com/watch?v=KikCGl-AmSA The end is seemingly near for a spring training complex that was never used by...
Major League Soccer's expansion plan and a relocation attempt keeps running into hurdles. The owner of the Columbus Crew, Precourt Sports Ventures or PSV, wanted to move the team to Austin, Texas.