Conor McGregor's legal troubles are now behind him and he can start planning a return to the octagon.  McGregor pleaded guilty to a single violation of disorderly conduct in Brooklyn criminal court Thursday morning, for his involvement in an incident on April 5 at Barclays Center.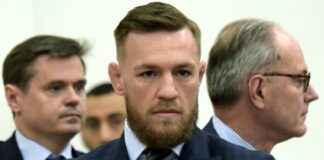 Conor McGregor spent more time in a courtroom today than he spent inside the octagon in the past year. McGregor's court hearing was like many of his past fights: quick.
The UFC lightweight division has some of the most talented fighters not just in the UFC currently, but it could be the most stacked division we have ever seen in MMA.  There are no clear number-one contenders for current lightweight champion Khabib Nurmagomedov.
The Charges Include One Felony And Three Misdemeanors UFC Superstar Conor McGregor has been charged by the New York police with one count of felony...
McGregor Is Facing Multiple Charges, Including Assault UFC Lightweight Champion Conor McGregor may not be fighting in the octagon Saturday night on UFC 223, but...